Tags
dom, gender, inclusive, lgbtq, sexuality, sub, USB
BEAVERTON, Ore. — The USB Implementers Forum announced today they would be formally changing the labeling of all USB connectors in order to promote gender inclusivity. 
While electrical connectors have been referred to as "Male" and "Female" for decades, the latest USB standards will be renaming the formerly male plugs and female sockets to "Dom" and "Sub," respectively.
"I think it's important to remember that the U in USB stands for Universal," said Jeff Ravencraft, COO of the USB-IF. "There's really no need to assign gender to these cables at birth, it's been kind of silly from the beginning. Changing their designations to preferred sexual roles just makes a lot more sense for everyone. If we can simultaneously make our product more inclusive while also making it more overtly sexual, I think that's a win-win!"
The USB-IF released a variety of marketing materials promoting the change, including a packet of "relatable memes" and a "USB fancam."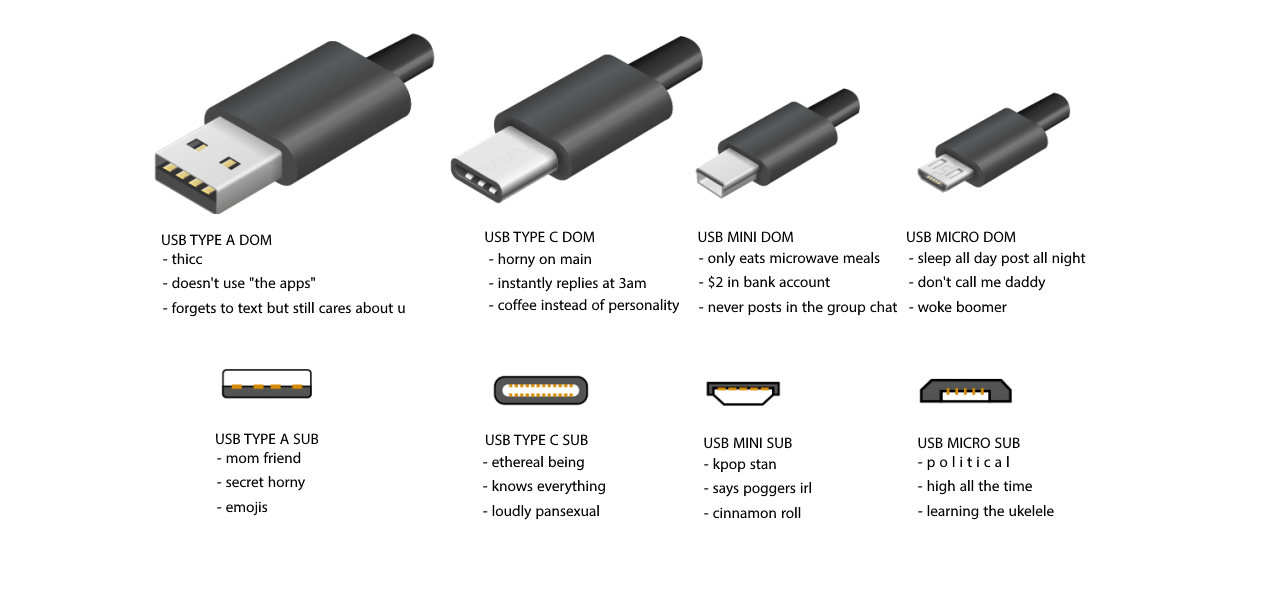 "We are incredibly horny for inclusivity," Ravencraft continued. "This is just the first step, we have a lot of changes coming up that are going to keep all USB connectors and cables hip, hot, and relevant to young people for years to come. I hope for a future where every device has a USB Type-C Sub port, a port that gladly takes it both ways if you know what I mean!"
Response from the LGBTQ+ community has been mixed, with many accusing the USB-IF of promoting over-sexualized stereotypes that cause more harm than help to the movement.
"I guess it's a nice gesture," said Alex Bristol, a non-binary member of the USB-IF's marketing focus group. "But like, maybe they could have just donated money to some LGBTQ+ charities, or promoted some genderqueer-positive hiring practices, because this is all getting kind of weird. They're talking about changing the B in USB to… to bussy. Universal Serial Bussy. We told them not to but I think they're going to do it anyway."
At press time, Apple is reportedly preparing a controversial statement clarifying that there are only two genders of lightning cable connectors. However, Apple does plan to roll out a series of gender neutral dongles for $20 each.
Like this article? Check out our podcast! The Hard Drive Podcast is available on all podcast apps.