Tags
5, japan, persona, sony, square enix
TOKYO — Persona 5 fans online are speaking out against the city of Tokyo today after eagle-eyed social media users discovered evidence that a popular tourist attraction in Japan's capital is actually a blatant rip-off of the 2017 RPG's iconic Shibuya Crossing location.
Photos of the allegedly copied landmark, which is featured prominently throughout the critically-acclaimed Atlus game, were first noticed by Persona fans on the official Japanese tourism website and related social media pages.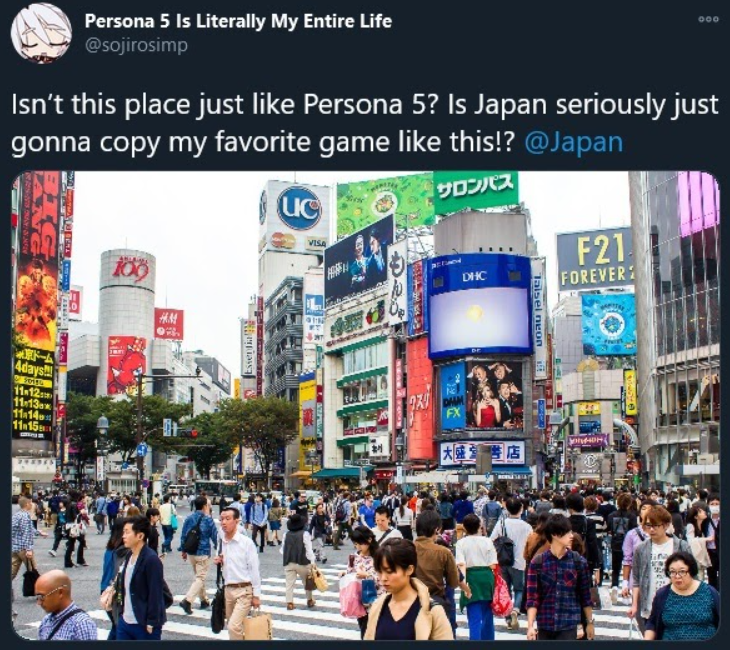 Fans have also expressed their outrage in video essays on YouTube, such as one posted by user "OnegaiKawakamiSensei."
"I wouldn't be so angry about this if the rip-off were at least accurate, but I don't recognize any of the businesses or characters in these photos," said YouTuber OnegaiKawakamiSensei in a recent video breaking down the similarities between the original Shibuya Crossing seen in Persona 5 and the real-world plagiarized version. "There's not a single Big Bang Burger location to be seen, not to mention the surprising absence of Toranosuke who should be standing in Station Square. Plus, I can't even fast travel there with my phone! This is a shoddy knock-off, and that's not just my opinion. I can only imagine how angry that people who have actually played Persona 5 must feel."
At press time, fans had become angered all over again after discovering that the Japanese flag's red and white color scheme had also been clearly ripped off from Persona 5's user interface.